What if Into the Woods but modern day
That's really all there is to this one. It's about the Sondheim musical.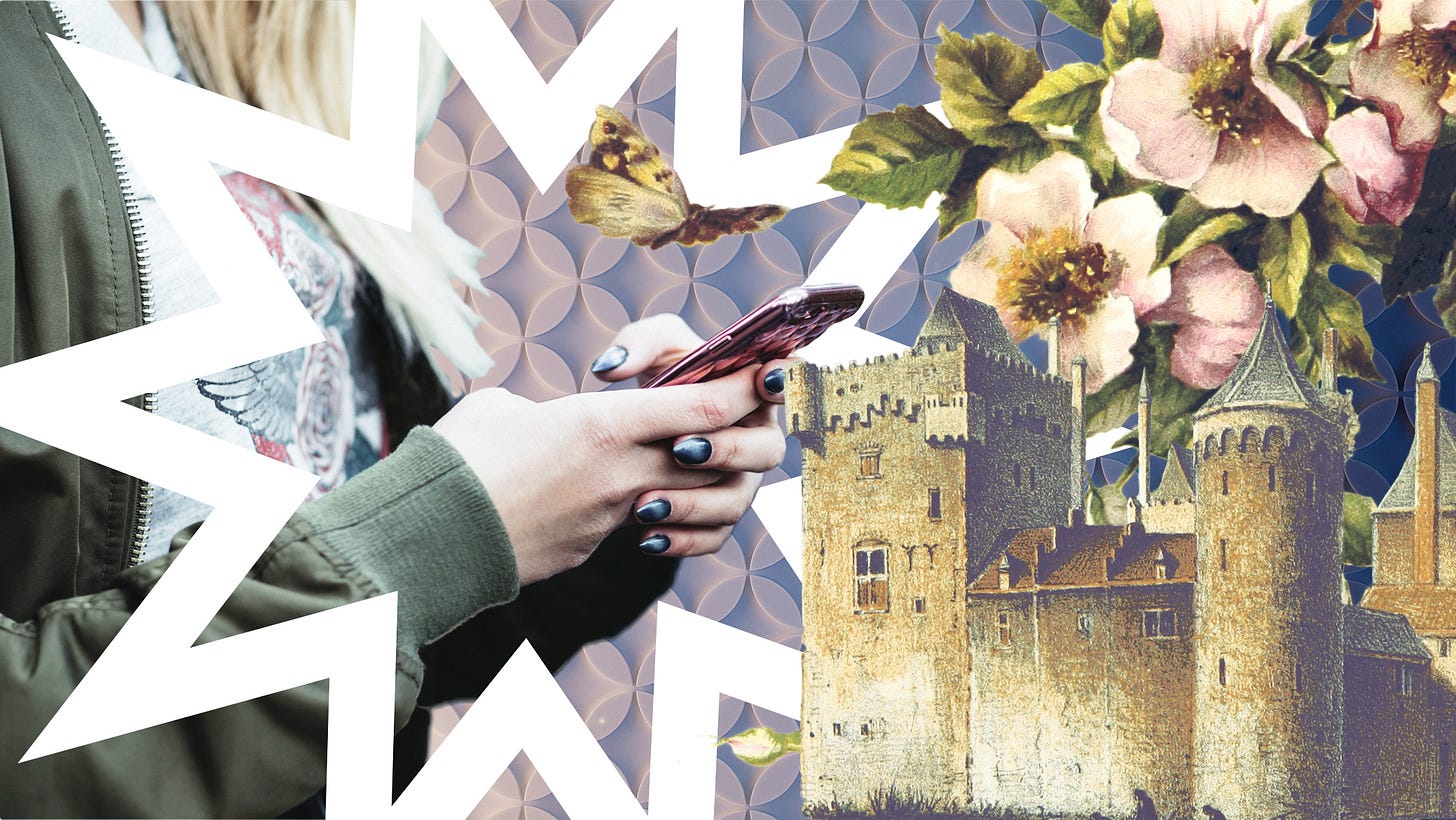 The Baker's Wife wouldn't stop posting about how Cinderella's prince has Big Dick Energy and now she and the Baker have a shared Facebook account. Everyone at the farmers' market just sort of nods politely when they mention it and pretends not to know they're in couples therapy.
The Baker is really into bread science and gets bro-y about sourdough and raw denim. He buys records from Urban Outfitters and is an avid Twitter reply guy.
Cinderella is a cottagecore lesbian who volunteers with kids and donates to NPR. Every time there's a relevant hashtag/holiday, she makes posts about her abusive family and her terrible ex with lots of 💖🌈✨💫 emojis because if she can get through that, you can too!
Jack makes elaborately performative Mother's Day posts every year, even though he and his mom fight the other 364 days. He wears short-sleeved button down shirts every day and makes videos on TikTok that he says have "Vine energy."
Jack's mother shares a lot of Minions memes on Facebook.
Little Red Riding Hood has one of those cat-shaped self-defense keychains and a "kill your local misogynist" mug. A decade ago she was super into Rookie Mag, and now she's all about true crime podcasts. She's cool, but in an exhausting way.
Everything Rapunzel owns is rose gold, and she has never not answered a "u up?" text, no matter how inadvisable it was. She was incredibly sheltered until she got to college, and now she seems pathologically driven to make bad decisions about guys. She doesn't have enough female friends. Every few months her on-again, off-again boyfriend cheats on her, and she has a public meltdown about it on Instagram.
The Witch is aggressively anti-child and judgy online about other people's parenting decisions, so you wouldn't be the only one shocked to find out she has a daughter. She goes on a lot of drunk political rants online and still follows JK Rowling on Twitter. Unfortunate.
The Princes are everyone's favorite large adult sons of an important politician. They have some kind of fun grift going on — perhaps a tech startup? A music festival? Ashley Feinberg chronicles their bizarre social media behaviors for Slate, such as the time one of them accidentally created a group message with all the women he Snapchats instead of sending them each the same dick pic individually.
The Narrator is a well-known centrist Twitter personality who's always chastising people for getting mad when the New York Times publishes a reactionary opinion piece. The best thing he'll ever do is get mass-reported and banned for accidentally advocating for war crimes. (That's the modern equivalent of getting fed to a giant, right?) He'll eventually come back, humbled and under a different name.
The wolf is Johnny Depp.
Header collage images by freestocks on Unsplash and from the British Library.
---
In honor of Juneteenth, the Pulitzer Center launched a Racial Justice portal this weekend to highlight reporting on the impact of racism around the world — including a project on the impact of COVID-19 on vulnerable neighborhoods in St. Louis. Because justice and advocacy in journalism is something I particularly believe in, I wanted to give that a little boost in the ol' newsletter this week.