Playlist: "Jessie's Girl" is about WHAT?
Songs that have no business secretly being that bonkers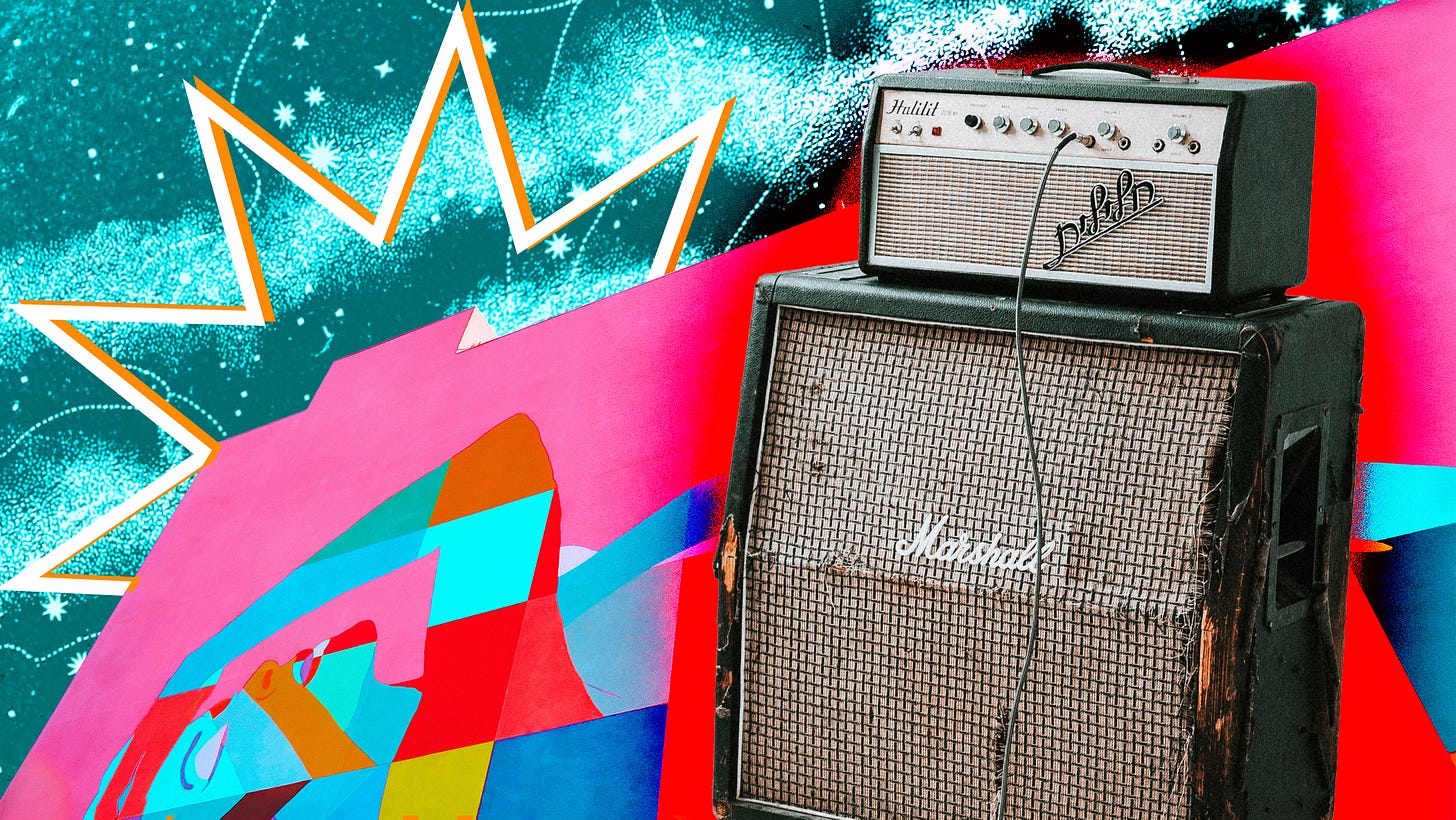 One of the things that got me through the last few months is Punch Up The Jam, a podcast so funny I cried laughing while trying to explain an episode to my dad. The premise is that the host and a guest pick a song to explore, and then they find a way to make it better.
Some of the songs they talk about on the pod, which are mostly classics, are just bizarre. I find it very inspiring.
So, in no particular order, here's a playlist of some of my favorite weird stories behind some of my favorite songs, ones that have been covered by the podcast and ones that haven't. They're mostly goofy and a little bit creepy, but I tried to stick to songs with actually interesting stories behind them, not just "did you know this song is about drugs."
It turns out that inspiration can come from anywhere. Who knew?
---
"Jessie's Girl" by Rick Springfield
This one is my favorite. I talk about this every chance I get. Did you know that "Jessie" was actually named Gary? And that he and Rick Springfield and the girl weren't actually friends? And did you also know that Rick met them at a STAINED GLASS MAKING CLASS? They weren't even friends!
My man Rick doesn't even know the girl's name, and Gary is long dead, so her identity is lost to time. It's like "Hey There, Delilah," except so, so much funnier. Do you think every girl who took stained glass classes in Pasadena in the '70s wonders if this song is about her? I would.
---
"Teenage Dirtbag" by Wheatus
Lead singer Brendan Brown (of course the Wheatus guy is named Brendan) said that the song was inspired by the alienation of growing up as a weird kid in Long Island in the '80s — and also the "Satanic, drug-induced ritual teen homicide that went down" in the woods behind his house. Brendan, WHAT?
---
"Walk This Way" by Aerosmith
For some reason, I never expect rock stars to have a sense of humor, but the dudes from Aerosmith apparently thought a gag from Young Frankenstein was so funny that they wrote a song about it.
---
"You Ain't Seen Nothing Yet" by Bachman-Turner Overdrive
Randy Bachmann claims that he wrote the song (specifically the "b-b-b-baby, you ain't seen nothin' yet" part) to make fun of his brother, who had a speech impediment, and his brother was the only person meant to hear it.
He might have just said that to deflect criticism that the song was a ripoff of The Who's song "My Generation," but still. Imagine roasting your sibling that publicly.
---
"Time to Pretend" by MGMT
This song was partially inspired by the MGMT guys' college pet, a praying mantis "who liked to dance to The Clash." That is some straight-up Studio Ghibli shit.
---
"Flagpole Sitta" by Harvey Danger
This song pops up sometimes when people talk about songs with titles that don't make sense, but this title actually does apply to the content of the song! The whole song is an ironic statement about following trends, and sitting on flagpoles was a bizarre fad in the 1920s! Now you know.
---
"My Sharona" by The Knack
Predatory '70s rock stars are so ubiquitous that this song only barely makes the list (the Sharona in question was 17 when the lead singer of The Knack started writing songs about her while dating someone else), but it squeaks in because Sharona Alperin is now a real estate agent whose website is mysharona.com. Queen shit.
---
"I Saw Mommy Kissing Santa Claus" by Jimmy Boyd
Every Christmas song is at least a little fucked up, but the bananas story about this one is that the Boston Archdiocese of the Catholic Church banned it for sexualizing Christmas and Jimmy Boyd met with church leaders to convince them to relent. I think…the less said about that the better.
(I also just found out from Wikipedia that Spike Jones wrote a parody "for his personal pleasure" and changed the words to "I saw mommy screwing Santa Claus." Cool, I hate it!)
---
"Gimme Shelter" by the Rolling Stones
You know how sometimes it feels like the world is ending, so you write a song that reflects the apocalyptic national mood, and then your producer insists you have a female guest vocalist on the track, so he calls up a friend of a friend (who is extremely pregnant), and she gets out of bed in the middle of the night to make this song her bitch and deliver an iconic performance, and then when she gets home she miscarries possibly because someone made her come to the studio and sing in the middle of the night, and meanwhile your guitar snaps in half on the last note of the recording?
And then the day after you release the song you play a festival that's being touted as a sequel to Woodstock and one of the security guards you personally hired (and paid in beer) stabs a girl in front of you, and also three other people die, and possibly the spirit of the '60s dies with them?
Yeah, it would be totally nuts if that was real. That's way too cursed to ever happen, though.
---
That's the list. Most songs were written in 15 minutes either at the behest of Berry Gordy or in the back of a car, so putting this together was harder than you might think. If you have your own favorite crazy song story, tweet at me or slide into my DMs! I'd pretend it's because I want to collect answers for a follow-up list but really I just want to know for my personal pleasure.
Header collage images by JOSHUA COLEMAN and Daniel Chekalov on Unsplash and from the British Library.