My mother, the Simsfluencer
An interview about games and gaming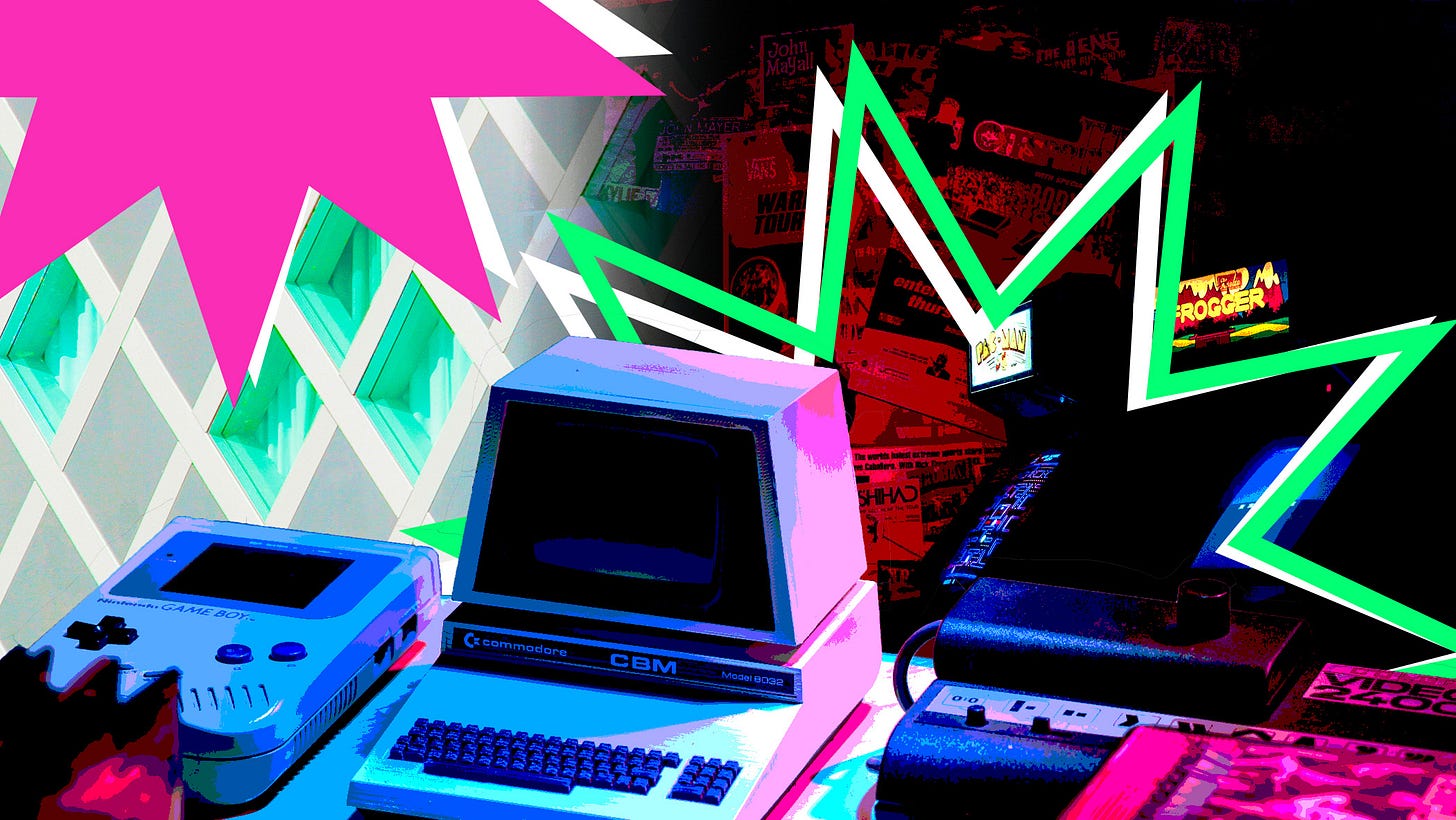 My mom and I sat down together last week, after we both had a couple of margaritas, so I could interview her about her favorite hobby, playing The Sims and posting about it online. Yes, I come from a long line of posters, and I'm the least gamer-y person in my family.
We talked about the community that sprang up around the game in the last twenty years, how video gaming moved from arcades to online, and building real-life locations in The Sims.
---
So what's your history with The Sims? What's the story?
So, we played Sims 1 years ago [The Sims, released in 2000], whenever that was the thing. It was super fun and then we quit playing, I think because Sims 2 came out [The Sims 2, released in 2004] and then it was like what? We have to buy a whole new game? Yeah, and we just quit playing. And then, last year in May, Sims [The Sims 4, originally released in 2014], the base game was free, and my daughter told me about it and I was like, oh, what the hell, it's free, so I downloaded it, and the rest, as they say, is history.
Tell me a little bit about how you started posting about it.
The only other game I really play is Lord of the Rings Online, which is an MMO [a massively multiplayer online game, like World of Warcraft]. So I'm used to a game being like, I'm not playing by myself. So I think that's why when I found out people post about it, I thought that it was a way to be involved, as opposed to like an MMO or just playing a game by yourself.
So I know personally about the stuff you made in The Sims 1, but do you remember any of the interesting things you made The Sims 1 versus what you're doing now?
So I can think of some, like I did Gilligan's Island. I did The Magic School Bus. But I did that one for my kid, I worked with my kid and we made a Magic School Bus. We made a house and then we made all the characters. And then I made a Lord of the Rings house with Legolas as the only adult in the house, and then Gimli and all the hobbits were children and it was really hard on Legolas because he first the only adult in the house.
What about Aragorn?
He wasn't there. It was Legolas —
Why?!
I don't know, because he was out adventuring! It was Legolas and Gimli and the hobbits. And I did not think about the fact that, yeah, Legolas was the only adult, so he was the only one who was doing all the work.
You made a "Suzy Snowflake"-themed house that was like "Suzy Snowflake," like the Christmas song, and I remember that —
I do not remember that, but I am not surprised.
— was really impressive, because it was, like, geometric. And I was, like, four.
And then the other thing I remember is, I made up a woodland house for Dumbledore and Gandalf to live together. And it had no walls, it had like columns —
So Gandalf was in the game, but he was somewhere else. That's in character for him. So who in the Sims community do you especially respect or who do you find inspiration in?
I think the thing that hooked me was Kelsey, Kelsey Impicciche and her 100 baby challenge, which is a BuzzFeed Multiplayer thing. And I didn't realize at the time — I guess I knew she was on BuzzFeed but I just figured she was another player, you know. I didn't realize there was an empire behind her. But still I loved, um, to me, she played it like I used to play with Barbies. And I was like, oh my God, that's totally what this is, we're playing with dolls.
That's so true. Yeah. Especially the way I play it, where I just make characters and then I build them a house and then I give up on them. I'm not interested in who they are as people. [This is the opposite of playing with dolls? I don't know what I was talking about.]
Yeah, I think it was her regular series that hooked me. And then I found a bunch of builders that I really liked and then a couple other personalities that I love, like Plumbella. Plumbella forever.
So was she the one that was on the TV show?
She was on Spark'd, yeah.
So tell me a little bit — just explain a little bit about the TV show for people who aren't me who haven't heard about it from you already.
It just wrapped up a couple weeks ago. I think it was four episodes of a reality TV show, like a battle, a Sims Battle Royale, where they brought in, I think there were four teams of three. So 12 players. And some of them I followed on YouTube, which is fun. Actually, Team Gnome, which was the team that Plumbella was on, I followed all of them, so they were my favorite.
Also the game then, in conjunction with the Spark'd show did Spark'd challenges where you built on a theme and you submitted it. They just released the winners of that and I did not win…but it's okay because when I saw what won, like, there's some people out there who are super fancy. On the other hand, that was one of the best builds I've ever done, and I really pushed myself.
What was the build?
It was a wedding, you were going to make your destination wedding, so I razed the national park that was in Outdoor Retreat [a downloadable expansion for The Sims 4] and I built a wedding chapel up on a hill. I based it sort of on the church in Estes Park, which is where your uncle got married.
Estes Park, Colorado.
Colorado, yeah. So I kind of used that, but then I looked up the church and a couple other churches came up so I just sort of mixed and matched the pieces. I actually think it's nice and people really liked it but the other was like the voting. You had to get people to vote for you and I was just like, oh, I want, you know, impartial judges, I don't want — it's a popularity contest.
Yeah, that's — it's an influencer thing. So, what sort of things do you like about the Sims community? And is there anything that you don't like?
It's super supportive. And I think that's cool. And then also there's drama and people sniping each other and that's not so cool, but I think overall it's super supportive. Also it's like, heavily…"girl." And I kinda like that because it is a video game, you know, and people are like 'girls don't play video games.' But we do! I played arcade games, that's what I did in high school. I went to the arcade. I did other stuff too, but that was what we did for fun. There were probably kids who went out drinking but I went to the arcade!
Nice, nice, nice. Are there any games that you remember playing in your life that were really important to you, besides The Sims and Lord of the Rings Online?
I mean, like Pac-Man, if we go back. Well, this is fun because I, they just had a like they just had a big convention, like a game convention, but it was virtual because you know you can't go to places now. And they were showing videos of Sam & Max [a video game franchise started in 1993, based on an earlier comic book series], and it was just clips because it was some Simster showing clips from the convention. That was one of the clips they showed, because they were waiting for the big announcement.
The big Sims announcement?
The big Sims announcement, of the Star Wars.
Oh, yes, the Star Wars. [The next expansion that will be released for The Sims 4 is Star Wars-themed. It's controversial.]
So, anyway, they showed Sam & Max, and I have no idea why, unless there's a new Sam & Max coming out, but that was kind of fun. Which harkens back to — you know, there are MMOs, but this was pre-that, as far as I know. I'm sure there were people playing games on bulletin boards or something, but we used to all get together and play Sam & Max. Like people would come over to our house and we would all sit around our desk with our desktop computer and play Sam & Max. And we'd say, 'oh, do this, no, go over there!' And we'd all be playing the game.
That's like me and my friends when we were little, we would sit around the desktop computer and the computer room and we would —
Play penguin?
We would play Club Penguin and Webkinz.
Just like that, yeah. And Rogue, I still love Rogue [a dungeon-adventure game released in 1980], and I would love to find it. It was an ASCII game. There is a version of Rogue now, but it's not the same. This was an ASCII game, and it was so cool!
ASCII meaning it just uses text characters to make pictures.
Yeah, yeah, yeah.
So is there any sort of like unique lingo or unique concepts in the Sims community that you think is especially fun?
I actually — so I've got a notebook where I'm keeping notes about the game. That's how far gone I am. And I have a page where I put terms, but that was because when I started playing and I started watching like YouTube videos and stuff…like "Let's Play" is a type of YouTube video that you watch and it's somebody playing the game —
So Sims introduced you to the concept of the Let's Play. That's fun.
Right. So it's like, are you a builder? There is a ton of lingo, so that's cool.
We've discussed builds, can you define "builds."
Well, the game is, you build houses and characters, and there are people who are, like, "I would rather build people," and there are people, like, "I'd rather build a house," and then there are people who are storytellers. They just want to play, and there are people who build and never play.
Are there any builds you're particularly proud of?
Actually I started a list of that too. There's a "save game," which is a thing that they do in the Sims community, where you make your world and you save it and share it so people can download your saved game. A lot of the big gamers, a lot of whom are EA Game Changers, so they've got an official relationship with — they're not employees, but they're recognized.
They're affiliates, partners?
Right. But not just those people, there are people who are just popular players. They do a save game, and you can download it, and they've rebuilt an entire neighborhood or something and added new characters and stuff. So I've started keeping a list of builds that I'm super proud of, and some of them — look, I have like 20 saved games.
Oh my God, I have three and I thought that was excessive.
No, I just kept saving, so I'm not sure what kind of computer power that involves. And I've just got the builds scattered everywhere. What I enjoyed was when I got Dine Out [a Sims 4 expansion that lets you build and manage restaurants]. That was super fun. I recreated Rob's restaurant.
Just briefly, can you explain what Rob's restaurant is?
I call it Acorn [in the game]. It's actually called Bulrush. Rob is a restauranteur in St. Louis.
He's also your friend.
He's my friend, and he's a James Beard semifinalist. I recreated his restaurant — not exactly, because the colors aren't the same, but in The Sims you have to compromise. But I send my Sims in there and it's like, oh my God, this is like being in there. I did a pretty good job. But then I also created The Beach, which is a food truck, a little beach-themed thing.
Alright, so, do you have anything you'd like to plug, like your Instagram or your YouTube channel?
Yes, both. So my name is Roving Pixels. Instagram is roving_pixls. And then I think on YouTube, you would just look for Roving Pixels Sims, if you searched that you'd find it. I actually haven't been doing — it's a lot to edit a video.
And that's your, like, real-life job. Editing videos, that's your big-girl job.
That's my big-girl job.
Header collage images by Ben Neale and Lorenzo Herrera on Unsplash. This interview has been edited for length and clarity.